Welcome to the first Weekend Highlights!
Weekend Highlights is created so that we can all share and catch up with each others' weekend happenings. Come join me! Blog about your weekend, link up, and meet new friends along the way!

I am so excited for this link up. I hope you guys will come join me and blog about your weekend, if not today, maybe next week and the week after that, then the week after that, then the week after that, FOR THE REST OF YOUR LIFE!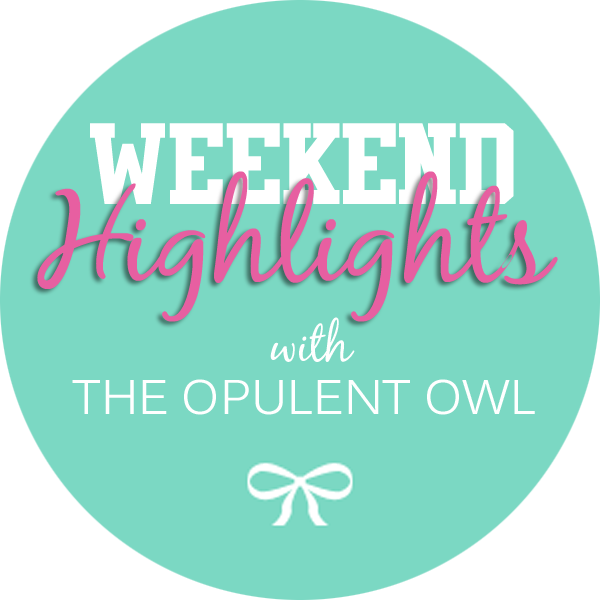 • Write a post about your weekend
• Grab a button
• Link up on Mondays
• Follow me so we can be friends :)
• Follow your co-hosts too!
• Hop hoppity hop! Meet new friends through the link up!
Neisha @ Neisha's View:
Blog
|
Bloglovin
|
Twitter
★ ☆ ★ ☆ ★ ☆ ★ ☆ ★ ☆ ★
Without further ado, let's talk about what happened this weekend!
Maylee's first morning playtime in her
Bright Starts Safari Activity Gym
. She loves it! She is discovering what her hands can do. She kept wiggling and playing with the toys, not to mention that she won't let go of that purple ring! I'm such a lucky mama to be witnessing this child grow ♥
This past Saturday was my cousin's son Brandon's first birthday! How perfect is that? I'm talking about his first birthday on the first Weekend Highlights post hehe :) He's grown so much. He's such a big boy now! I didn't take a lot of pictures but the birthday was carnival theme.
Maylee was so tired from the long day, so we put her to sleep. Finally! Some mommy and daddy alone time! What did we do, you say? We watched Turbo and drank some wine. Definitely the perfect combination right there. Oh my goodness, the things we do now that we are parents hahaha
Sunday was BBQ night, hosted by my dear friend Emily(she's the one all the way to the right at the group picture). It was a great night. We played some card games and shot some pool. And yes, I drank some wine again hehe. I promise, I am not alcoholic =P
Left to right in group picture: Jessica, baby Maylee, Cassandra, me, and Emily.
≡1≡ Colorful wine glass. Love ♥
≡2≡ With my sister from another mother, Cassandra
≡3≡ Cards Against Humanity, anyone? If you haven't played this card game, I don't know if we can stay friends. I'm kidding, but for real though, you are missing out!
≡4≡ With my girl friends! I'm so glad I got to see Jessica and Emily again. It's been too long!